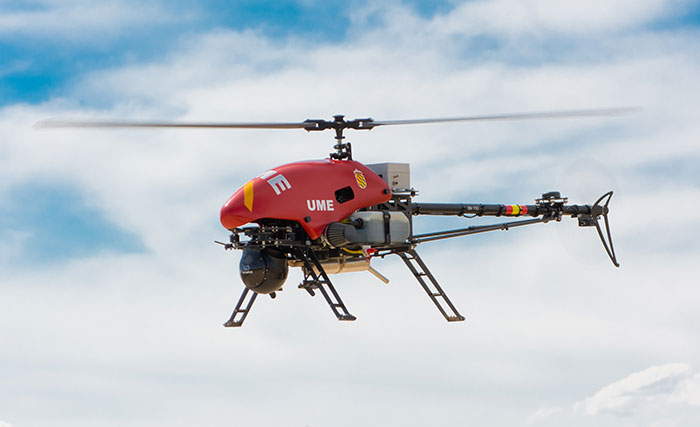 Alpha Security and Defense presentará el UAV Alpha 800 y mostrará las diferencias entre UAV Mini y UAV Micro en operaciones de emergencia y seguridad
El Helicóptero táctico con motor de combustión Alpha 800 estará presente en la III Jornada Tecnológica de SecuDrone. Esta plataforma de ala rotatoria es capaz de volar hasta 3 horas con una carga de pago de hasta 3 kilos, siendo ideal para portar todo tipo sensores de las más altas prestaciones. Además, dispone de la capacidad de autorrotación automática y vuelo en situación de GPS Denegado entre otras muchas funciones.
Eric Freeman, CEO de Alpha Security and Defense, también expondrá una comparación entre UAV Micro y UAV Mini a través de un análisis que integrará los requerimientos del cliente (Cuerpos y fuerzas de seguridad y emergencias) y las características y funcionalidades de estas plataformas.
Alpha Security and Defense es líder en la fabricación de helicópteros tácticos UAV con motor de combustión y servicios de ingeniería UAV avanzados. Fundada en 2014, es una empresa independiente con base en Madrid, y creada con capital 100% español.
Con esta ponencia, los 300 asistentes previstos a SecuDrone, entre los que se encuentran estos usuarios finales, tales como militares, policías y miembros de cuerpos bomberos y de rescate podrán identificar mejor las capacidades, limitaciones, así como ventajas y desventajas del uso de plataformas tipo Mini Vs. Micro.  En la misma, se primarán conceptos como la exigencia en autonomía, carga de pago, resistencia a inclemencias externas (naturales, humanas y tecnológicas) o rango de actuación, en sus misiones de seguridad y defensa en vuelo.